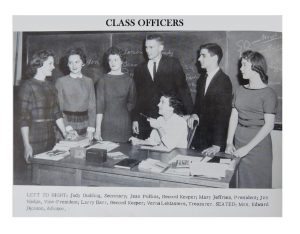 Donate Now
POINT PLEASANT — With a spirit of pride in their school, the Point Pleasant High School Class of 1960 has announced the creation of a permanent scholarship in honor of departed classmates.
The idea came about during the group's monthly meeting that began in 2015. The home-based monthly luncheon idea was spearheaded by classmate Diana Lewis Bragg who, according to class member Suzanne Dickens, chaired almost every Reunion Committee since the class graduated in 1960.
"The lunches gave members an opportunity to plan, socialize and reminisce about the class, upcoming reunions, and the highlights of classmates who have remained in contact," Suzanne Dickens said.
When Bragg passed away in 2017, the home-group wanted to honor her, and through social media, newsletters, and telephone calls they raised enough money to establish the Diana Lewis Bragg Scholarship Award. The scholarship was awarded twice to a graduating high school senior who entered college with an interest in cheerleading.
Shortly after Bragg died, her lifelong friend and classmate Sharon Sauer Hutchinson passed away, followed by classmates Pat Wilson III, John Bowcott, and George Knapp.
Suzanne Dickens said the group knew that Bragg would want all of her classmates honored and included in any annual memorial, so they contacted her family and reached out again to classmates.
Along with her husband David Dickens, the couple aligned the group with the Mason County Community Foundation (MCCF) to hold, invest and administer the incoming funds. It took almost four years for the Class to accumulate enough contributions to build an endowment large enough to guarantee an award gleaned from its annual interest, and the class is pleased to announce the first scholarship will be awarded this year to a 2022 graduating senior.
Donate Now